MLP. supply complete fixtures with LED drivers built-in or remote, you may see this on our quotes as DE – driver excluded or DI – driver integral.
If dimming, MLP will need to know what dimming protocol the installation will be using. Generally we do not supply the dimming control system except Hue Connect. In professional projects the dimming protocol has normally been selected by the electrical consultant. Understanding the different dimming types is critical to the success of any lighting project.
Phase-Cut Dimming
Phase-Cut Dimming (sometimes called trailing edge/leading edge) The most basic form of dimming originally developed for resistive incandescent loads (where it worked really well) This is your typical domestic type wall dimmer. Standard active, neural and earth. The dimmer simply "chops" or "cuts" the 240v phase to the LED driver. The dimmer is connected to the active.
No extra wiring is required. LED Dimmers widely available from electrical wholesalers. LED drivers are "capable" of phase-cut dimming, "capable" being the operative word ! Just because they are "capable" does not mean they will work every time, every dim level and every way you expect. Expect as minimum these problems
Flickering LEDs & Poor dimming performance – LEDs don't dim at all or do not dim to the level you require, LEDs pop off at low levels, large jumps or steps in the light output when dimming. LED's flashing around 10pm due to hot water load switching in NSW …. exactly the time you will have your home, restaurant or bar lights dimmed to a cozy level …. Be warned there are millions of combinations of LED drivers, phase-cut dimmers and LED lamps / fixtures making compatibility an issue. Our position is "DO NOT dim LEDs with phase-cut" if you do, expect these problems. Our warranty does not cover dimming performance, if the driver and fixture operates on a standard on/off switched circuit it is deemed as working correctly.
Switch DIM or Push DIM
Switch Dim is Tridonic's version of Push dim.
Is one of the simplest types of professional dimming available. Suitable for use in small to medium sized installations. No digital controllers are required, the regular switch is replaced with a mechanical push button. Requires standard wiring plus a 1 or 2 Core Switch wire, a mechanical "normally open" push button switch is required to operate a Switch dim / Push DIM driver. Don't mix different brands of drivers on the same circuit and check the wiring diagram of the driver before electrical 1st fix.
Excellent stable dimming 100-1%
One push button for on/off and dim
1-2 Core switch wire required depending on the driver brand
Dimming occurs through the use of a "normally open" type push button switch, push for "on" push for "off" push and hold to "dim"
Drivers available to suit most LED mA and Vf (Tridonic, Osram, Vossloh, TCI etc.)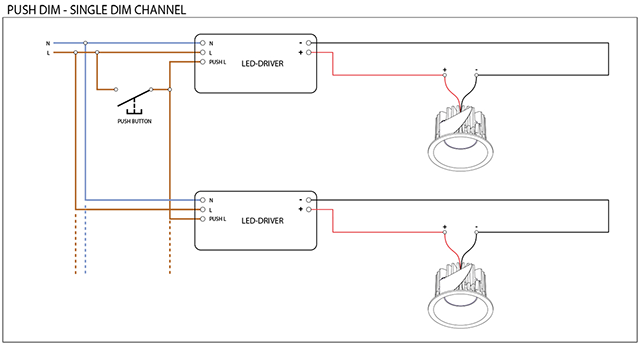 1-10V Dimming
1-10V (Analogue) Dimming uses an analogue signal. It is a universal protocol, so all 1-10V drivers operate in the same manner. Each driver requires a standard switched wiring plus two core control line to carry the low voltage signal (which is polarity sensitive) most electricians use "bell wire" for the 1-10v control wire. In its simplest form use a rotary potentiometer or 1-10V controller, Modular Hue Connect or professional dimming system. Excellent stable dimming 100-1%.
Additional 2-Core LV control cable is required.
Works with Hue Connect wireless lighting control
1-10V controller or potentiometer is required. Some quantity limits to each potentiometer
240v load still required to be switched to off
1-10v drivers available to suit most LED mA and Vf (EldoLED, Tridonic, Osram, Vossloh, TCI etc.)
DTK-3 for Clipsal or HPM face plate, requires on/off switch for 240v
DALI
The default professional dimming protocol.
Digital Addressable Lighting Interface – DALI – is a universal protocol (IEC 62386) allowing varying manufacturers drivers to all work on the same system. It doesn't matter whose light fitting or driver you are using, if it is DALI it will work on a DALI control system. Up to 64 light fittings / drivers can be controlled per DALI line, buildings can have multiple DALI lines. Wiring to a DALI fixture requires a standard unswitched active/neutral/earth, plus two DALI control lines (not polarity sensitive).
The "A" in Dali stands for "addressable" this means the driver can be "addressed" by software and told what it is and where it is. Dali drivers are always in standby, waiting for a Dali signal to turn on and go to a dim level. Very impressive, very flexible but needs complex expensive control systems and an Integrator to make it all work (and maintain)
Needs a Dali controller, this is normally a professional system e.g. Dynalite, C-Bus, C4 or similar
Excellent stable dimming 100-1% and some drivers to 0.1%
Additional 2-Core building control cable is required.
Fittings are connected to the Dali line and then addressed – no switched circuits.
Dedicated DALI interface or Control System is required to control this System
Dali drivers available to suit most LED mA and Vf (EldoLED, Tridonic, Osram, Vossloh, TCI etc.)
Dali drivers can also be wired in "broadcast" mode. This is wired with the Dali drivers in a traditional circuit, the Dali "broadcast signal is sent to each driver in the wired circuit, On/Off dim Up/Down.
A number of simple broadcast controllers are available like Diginet DALI Wall Plate Dimmer for on/off and brightness or Tunable white. The wall plate is 240v powered with a built in Dali power supply, unto 50 drivers.
Remember
Don't phase dim LEDs, if you do understand the expected performance issues. Critical in hospitality installations.
Select the dimming system before running cables on site and ensure your electrician understands the system and allows the correct wiring.